Regular price
$33.26 USD
Sale price
$32.19 USD
Unit price
per
Sale
Sold out
Meet the members of the band with the full current Twisted Nut Butter collection.
All four nut butters have a combined value of €29,60 We are offering it to you for only €25,00
1x Light Roast Peanut Butter 300g
1x Dark Roast Peanut Butter 300g
1x Silky Smooooth Peanut Butter 300g
Peanuts Argentina Almonds Spain Rock Salt Himalayan Mountains
• Vegan • Gluten Free • Dairy Free •
Total Net Weight: 1,100 grams // 1.1kg
View full details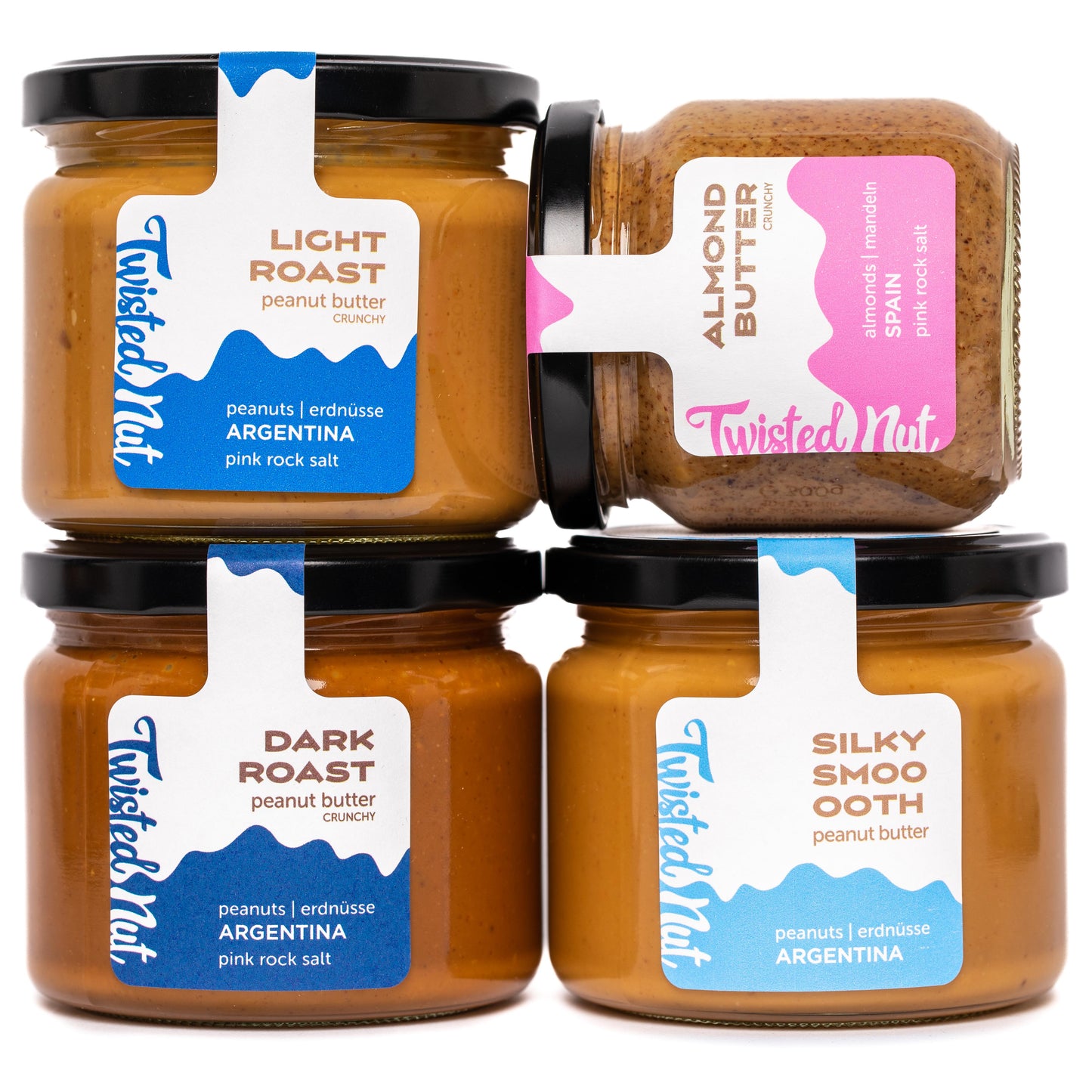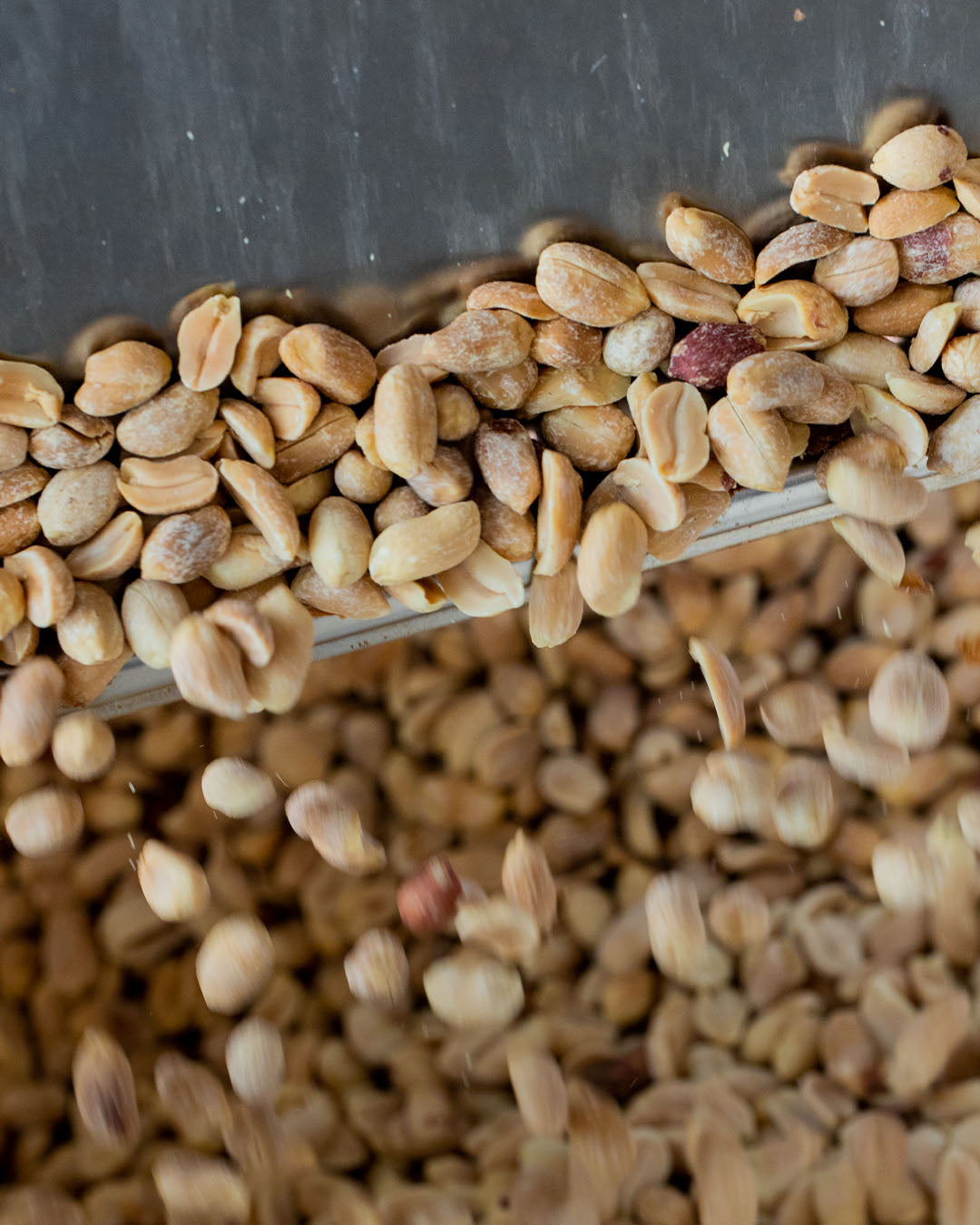 TWO INGREDIENTS

SUGAR-FREE

TOTALLY VEGAN

HANDMADE IN BERLIN

WITHOUT PALM OIL
What Makes Twisted Nut Special? 
What makes Twisted Nut special is our drive to bring something unique to the market. Too often I see the same just wrapped differently. I wanted something more than that. Hence the brand name "Twisted Nut" simply meaning to bring a "twist" to peanut butter.
I was the first in the world to place nuts in the oven for longer to create my signature Dark Roast Peanut Butter and bring it to market in 2015, New Zealand before relaunching the brand here in Berlin at the end of 2018.
I will continue to do my best to bring you the best, one jar at a time. Join us on our journey. 
<tc>Who are we?</tc>
Our little slice of peanut heaven begins with us, Corby & Isabell. We met in New Zealand where I (Corby) first started Twisted Nut back in 2015. Over time Isabell decided to move back to her home in Berlin.
At the end of 2018 I moved to Berlin for Isabell to start a new adventure and thought to bring Twisted Nut with me. From our beginning here in Berlin we have been mixing, milling and filling every jar by hand into the brand that you see today. 
<tc>What does Corby do within Twisted Nut?</tc>

"I start my days of the week early in the morning with a slice of peanut butter on toast in the hand and drive to our production kitchen. Once there, I roast, mill and fill our nut butters. We deliver once a week ourselves to all our Berlin delicatessens and hotels. At the end of the week I'm sitting at the computer and doing my best to push Twisted Nut forward and develop the next idea!"

 

<tc>What does Isaebell do within Twisted Nut?</tc>

"Isabell has my back and has done since the beginning. Without her Twisted Nut may not be here running like smooooth peanut butter.. Isabell is in charge of administration and sits in front of the computer making sure all of the paper work is in check. She manages communications for Twisted Nut and is always pushing for the next store or baker to showcase the brand and our handmade goods."
<tc>From the farm to your table - This is how we do it!</tc>
1. Sourcing

2. Roasting

3. Cooling

4. Milling

5. Mixing

6. Labeling & Packing

7. Out the door

8. On your table
Natürlich lecker
Uns gefällt das Produkt. Es schmeckt natürlich und genauso wie Erdnüsse und Erdnussbutter schmecken soll. Wir sind von dem Produkt überzeugt und werden es auch weiterhin bestellen.
Mir hat die Erdnussbutter mit Strawberry White chocolate Geschmack sehr gut gefallen, ich muss noch die anderen probieren, ich liebe sie sehr
Danke ☺️
Super Qualität! Super lecker! Mjam!
Mein Mann und ich sind bereits süchtig danach. Wunderbare Qualität und super lecker. Wir werden wieder bestellen.