Regular price
Sale price
€22,99 EUR
Unit price
per
Sale
Sold out
We've got your toast covered with a 1 kilo tub of peanut butter delivered to your door MONTHLY!
Also offering delivery every 60 days! Shipping included in subscription pricing. Cancel anytime! For more information 
click here.
Or get in touch with us after placing your order to customise how many days in-between suits you best
Only in Germany
Select either 1 or 2 kilo per month. Light or Dark Roast. Mix and Match!
Subscribe for yourself or GIFT it to a peanut butter buddy of yours!
View full details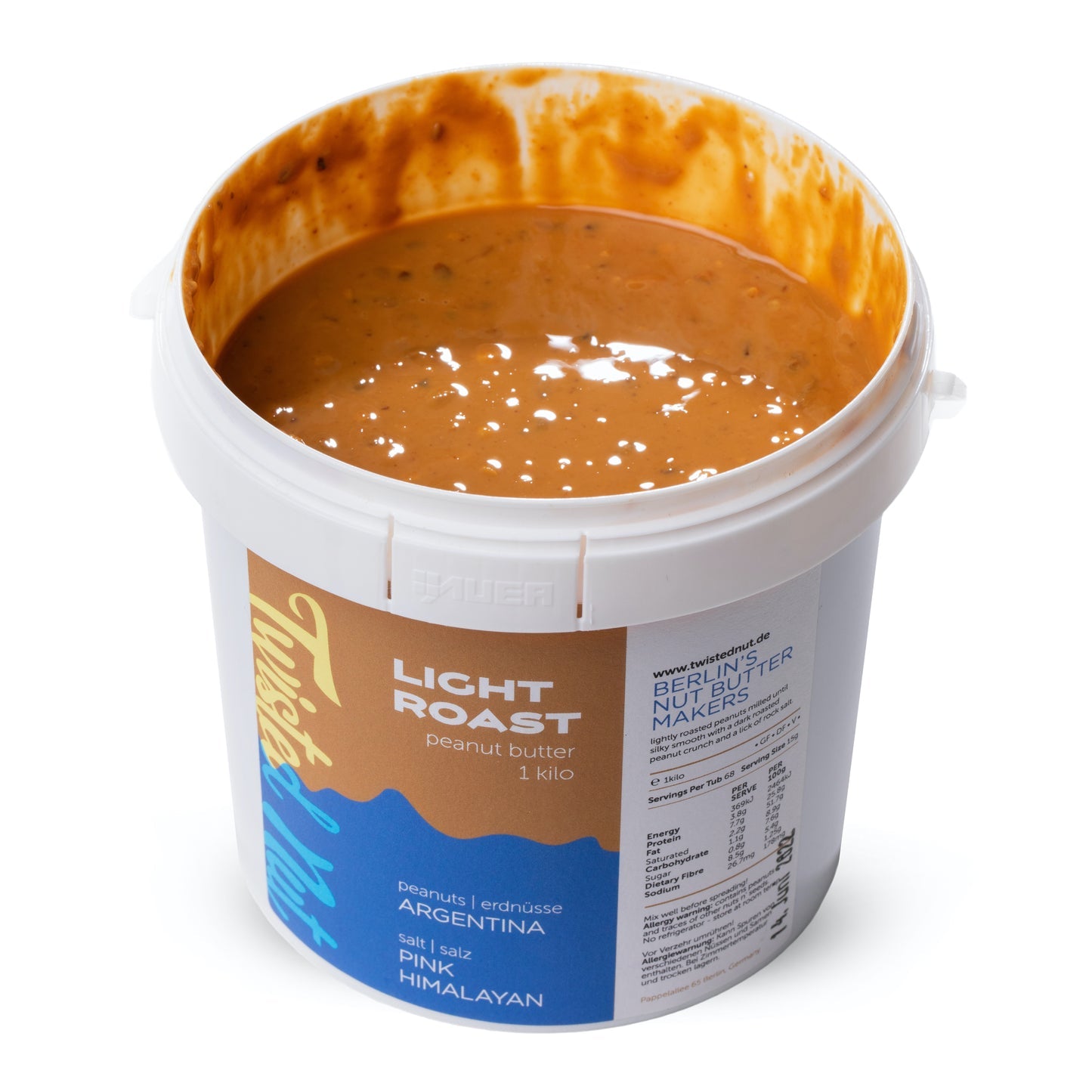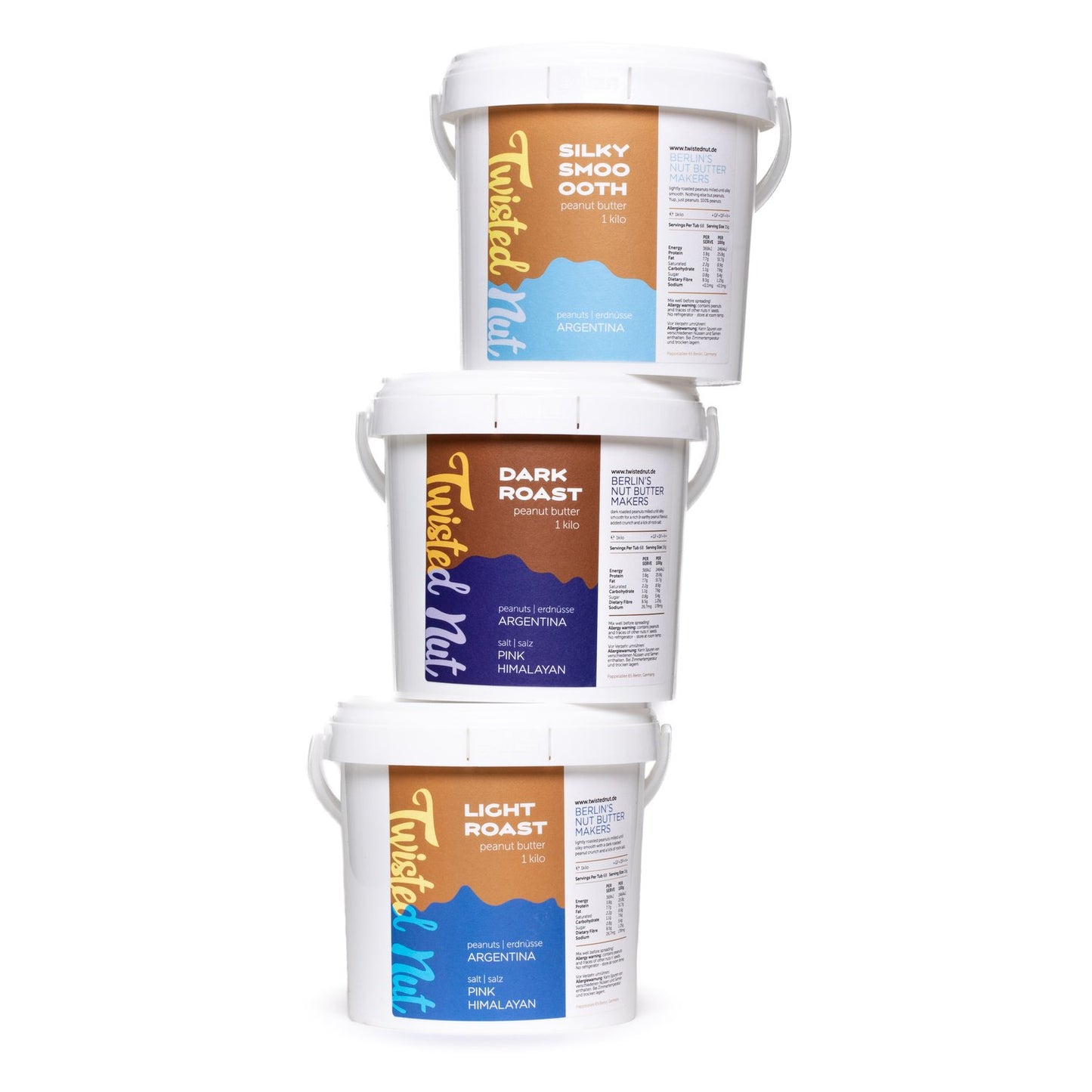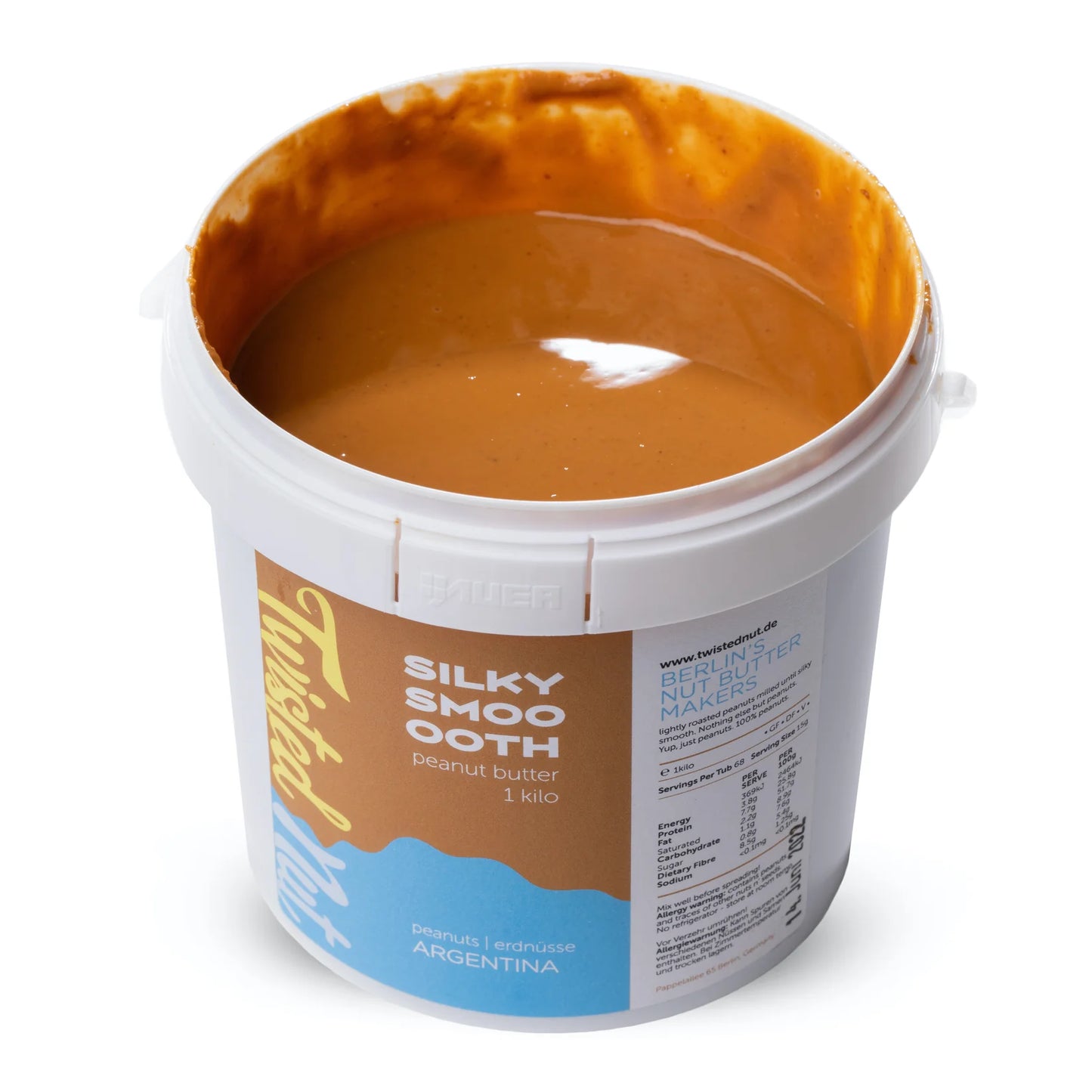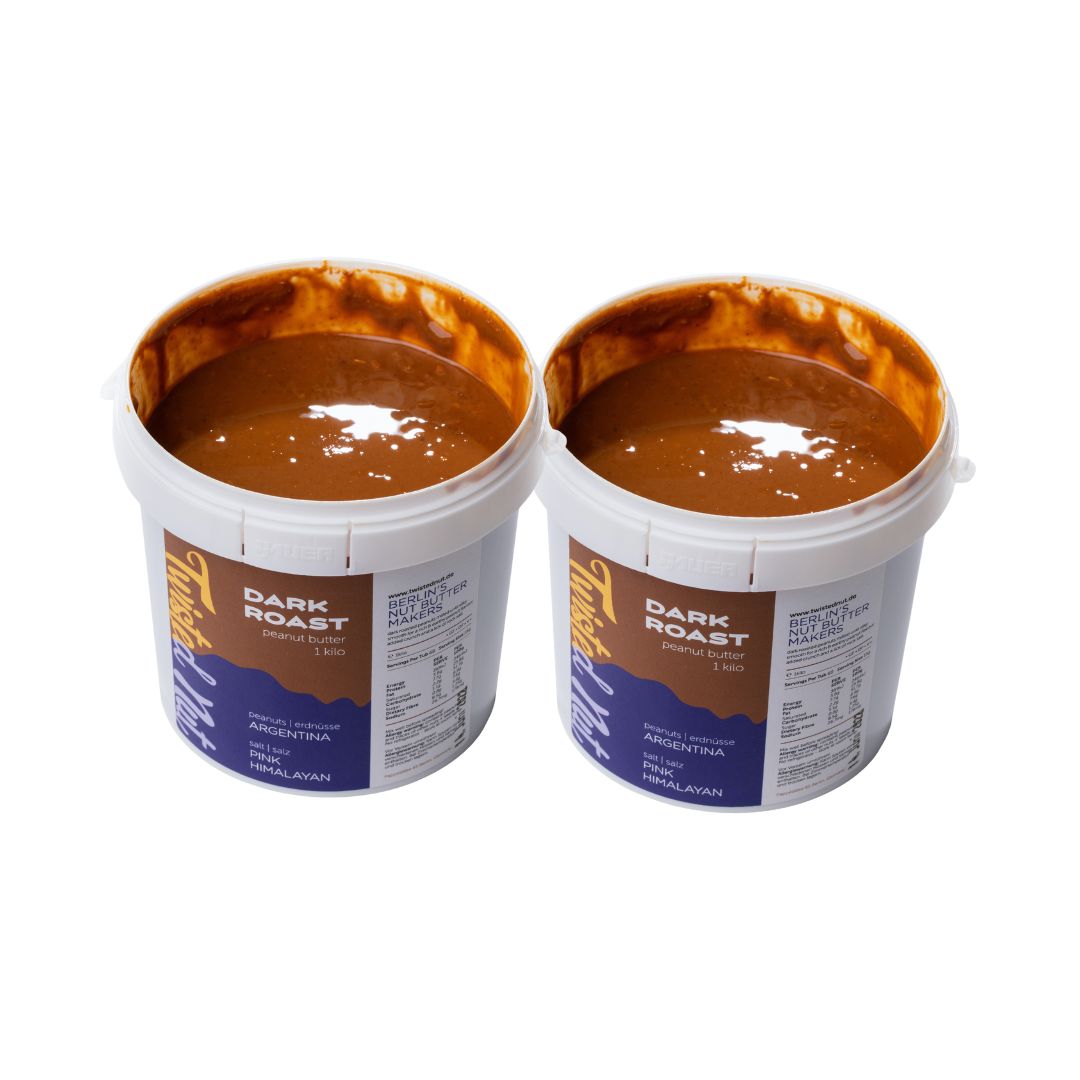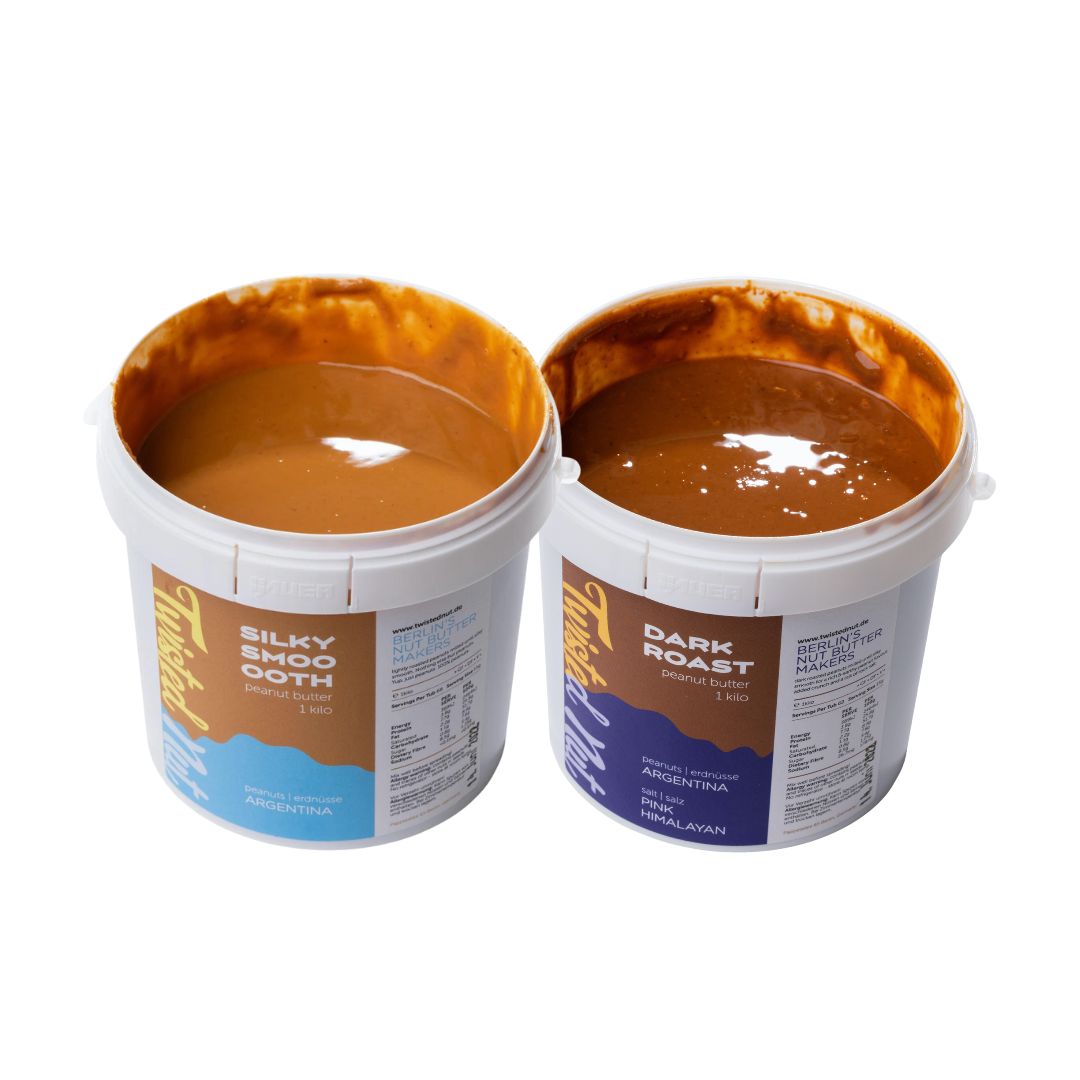 TWO INGREDIENTS

SUGAR-FREE

TOTALLY VEGAN

HANDMADE IN BERLIN

WITHOUT PALM OIL
What Makes Twisted Nut Special? 
What makes Twisted Nut special is our drive to bring something unique to the market. Too often I see the same just wrapped differently. I wanted something more than that. Hence the brand name "Twisted Nut" simply meaning to bring a "twist" to peanut butter.
I was the first in the world to place nuts in the oven for longer to create my signature Dark Roast Peanut Butter and bring it to market in 2015, New Zealand before relaunching the brand here in Berlin at the end of 2018.
I will continue to do my best to bring you the best, one jar at a time. Join us on our journey. 
<tc>Who are we?</tc>
Our little slice of peanut heaven begins with us, Corby & Isabell. We met in New Zealand where I (Corby) first started Twisted Nut back in 2015. Over time Isabell decided to move back to her home in Berlin.
At the end of 2018 I moved to Berlin for Isabell to start a new adventure and thought to bring Twisted Nut with me. From our beginning here in Berlin we have been mixing, milling and filling every jar by hand into the brand that you see today. 
<tc>What does Corby do within Twisted Nut?</tc>

"I start my days of the week early in the morning with a slice of peanut butter on toast in the hand and drive to our production kitchen. Once there, I roast, mill and fill our nut butters. We deliver once a week ourselves to all our Berlin delicatessens and hotels. At the end of the week I'm sitting at the computer and doing my best to push Twisted Nut forward and develop the next idea!"

 

<tc>What does Isaebell do within Twisted Nut?</tc>

"Isabell has my back and has done since the beginning. Without her Twisted Nut may not be here running like smooooth peanut butter.. Isabell is in charge of administration and sits in front of the computer making sure all of the paper work is in check. She manages communications for Twisted Nut and is always pushing for the next store or baker to showcase the brand and our handmade goods."
<tc>From the farm to your table - This is how we do it!</tc>
1. Sourcing

2. Roasting

3. Cooling

4. Milling

5. Mixing

6. Labeling & Packing

7. Out the door

8. On your table
this is simply the best Peanut Butter there is. I dont understand how or why more peanut butters are not more like this. I use the Deep Roast in everything: dip fruit in it, in smoothies, for Satay sauce. It is just wonderful! Once you try deep roast, there is no going back!
This is by far the best peanut butter we've ever tested, beside the taste the pureness of ingredients is what convinced us all (parents and our daughters). The crunch and the salt make it best! Ordering an Abo says it all ;-)
Wir lieben Twisted Nut! In smoothies, brotbox aufhübscher, am Wochenende Frühstücks Buffet…alles ganz lecker und sehr freundliches Service. Am besten gleich als Abo, dann muss man nie ohne!